Bradford restaurant in lower-fat curry bid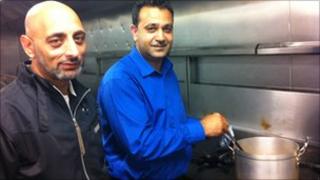 A West Yorkshire businessman is claiming that Britain's favourite dish, the curry, can be a lower-fat dish.
Faz Rehman, from Bradford, who is opening a restaurant that does not use oil in cooking, said: "You can still have the same taste."
His chefs are learning to cook with a jug of water beside them - the water being used instead of oil.
However, Mohammed Aslam of the Aagrah restaurant chain was rather doubtful. He said: "You need good quality oils".
Mr Aslam, executive chef and managing director of the West Yorkshire-based chain, added: "Only the very minimum oil needed to cook should be added, there should be no excess oil."
Different oils
Mr Rehman who is opening the Jumerah restaurant is not a chef by trade but recent ill-health, including high blood pressure and diabetes, made him look again at his cooking and lifestyle.
He claimed a curry dish, cooked his way, is about half the calories of a more traditionally-prepared dish.
James Evans, a dietician with Bradford Teaching Hospitals Trust, said it was not a matter of curry being healthy or unhealthy but that the type and amount of oil used was important.
Mr Evans said: "We recommend using no more than half a tablespoon of oil per person when cooking a curry."
He added that vegetable oil or olive oil was preferable to using ghee.
Type 2 diabetes, which is prevalent in Bradford's Asian population, is linked to obesity among a variety of other factors.
Health advice is that keeping oil to a minimum when cooking will limit calories.