Morrisons to fund Bradford University business degrees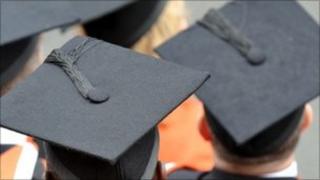 Bradford-based supermarket chain Morrisons is to fund up to 1,000 university students a year, with the aim of recruiting new company managers.
The students will study for a new business degree jointly set up by the chain and Bradford University.
Students on the three-year course, which starts in September, will spend much of their time on the shop floor.
Julian Bailey, from Morrisons, said the firm had a "genuine need" to invest in future managers.
Mr Bailey said he hoped the new Retail Management degree course would benefit both the company and the students.
"It enables us to gain people who we can mould into really good managers," he said.
"And, for them, they can study and work at the same time and gain a recognised qualification."
In return for receiving full funding from Morrisons, the students will be expected to spend the first six months of their course working at a supermarket owned by the chain.
During the rest of the course, students will also have to spend much of their time on the shop floor, and they will not be able to take the long holidays enjoyed by other students.
'Fantastic opportunity'
Bradford University denied the course took advantage of fears over rising student debt.
Dr Sarah Dixon, Dean of Bradford University's School of Management, said: "The concept of this degree was developed before the new fee schedules were developed."
Bradford University announced in April that it had set its tuition fees at the maximum £9,000 a year from 2012.
Imad Faghmous, academic affairs officer for Bradford University's students union, said the new degree course offered a "fantastic opportunity" to students worried about money.
He said: "In a situation where funding is decreasing, we're going to see a lot more of the private sector stepping in to help students."