Probe after Bradford mum wrongly told she had miscarried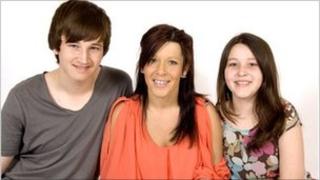 An investigation is under way at a hospital after a mother-to-be was wrongly told she had lost her baby.
A midwife at Bradford Royal Infirmary told Chelsea Muff she had miscarried when she had an ultrasound scan seven weeks into her pregnancy.
A second scan, carried out two weeks later at the request of Miss Muff, revealed her baby was still alive.
Bradford Teaching Hospitals NHS Foundation Trust said it was investigating the circumstances.
Miss Muff, 32, went for her first scan last month after she noticed some spots of blood.
'In shock'
"The midwife told me I had miscarried. A consultant came in and confirmed what she said.
"I had gone there by myself expecting everything to be ok. I was so upset, I just lay there in disbelief."
The mother-of-two was offered tablets to induce labour, but chose not to take them, instead opting to see if the tissue would come away naturally.
"I was in shock. I wanted to hold on to the baby. I didn't want to believe it was no longer there."
As the days went on Miss Muff experienced no bleeding and a hospital appointment was made for two weeks later to remove the tissue.
Ms Muff then started researching about miscarriages, which made her concerned about her own situation.
"It just seemed strange that I hadn't bled or had any pain. I felt fine and was showing all the normal pregnancy symptoms.
"The day came for my appointment and I didn't go. Things just didn't seem to add up."
Miss Muff then requested a second scan which showed her baby was alive.
Formal complaint
"I heard a thudding sound, a heartbeat, I knew the sound but thought I was imagining it.
"The midwife said she couldn't understand how they had got it wrong the first time."
Miss Muff, whose baby is due on 14 February, has now made a formal complaint against the hospital.
"The fact I could have terminated my own pregnancy and not known about it is unthinkable.
"You put your trust in doctors and when it's a matter of life or death like this, they cannot afford to get it wrong."
The hospital trust said: "We sympathise with Miss Muff for the distress she has experienced.
"The trust is taking all necessary actions to investigate the circumstances and has contacted Miss Muff directly to discuss her concerns."