Community funding 'key' to preventing youth disorder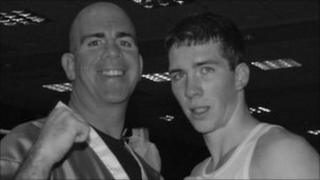 Increased funding for youth projects is key to preventing young people taking part in disorder, a community leader has said.
Huddersfield was one of only three places in Yorkshire touched by disorder, violence and theft last week.
Mark Reynolds, who runs an amateur boxing club in the town, said clubs such as his could give youths a focus and turn "countless" lives around.
Despite applications the club has never received government or council funding.
The volunteer-run organisation relies on fund-raising and donations to stay alive.
Mr Reynolds, a former amateur boxer, set up the club in 1998 for his son and later gave up his business as a builder to concentrate on its future.
More than 300 members aged between five and 79 now pass through its doors each week for boxing lessons, self defence and fitness classes. They also use its IT equipment to do school or college work before sessions.
Mr Reynolds said the club uses sport to bring people of all ages and ethnic backgrounds together and keep its members - which include young offenders - "on the straight and narrow".
He said: "We are much, much more than a boxing club. We try and get all these kids off the streets but we don't seem to get any support."
The club's volunteers contacted members on social networking sites last week, urging them not to get involved in any disorder.
Their actions have been praised by West Yorkshire Police, who said: "Community spirited members of the public like Mr Reynolds prove that the actions of people who have been involved in disorder in West Yorkshire will not be tolerated.
"Police forces across the country have been affected by what has happened in the UK, so it's reassuring to know that the efforts of our officers are being boosted by members of the public who care about the places they live and the young people in their communities."
Earlier this week Mark Abberley, chief executive of the Amateur Boxing Association of England, said he believed encouraging more disaffected and disengaged young people to learn amateur boxing could help to heal what the Prime Minister labelled "the sick society".
Mr Reynolds agrees.
"I have been brought up through my sport with old-school values," he said.
"I was numb when I heard about what was happening. [The people involved] had no care for anybody's values, anybody's property.
"In and around the area of the club nothing happened. The people that I deal with, not one of them did anything wrong because they are disciplined. Respect is paramount in what we teach."
Mr Reynolds said he felt community groups like his were losing out on funding to larger organisations who could pay professional people to submit grant applications.
He said: "We have had countless individuals who were going down the wrong road come to us and we have got them to become good citizens, so we do make a difference.
"If we had the funding and support we could open seven days a week and we could see thousands of people every week.
"We are only scratching the surface. It's frustrating because I have got loads of ideas and initiatives that with a bit of support that could transform a lot of young lives."
The club's next fund-raiser is at the town's Grosvenor Casino on 17 September.