Calderdale Council defends £24,956 bottled water bill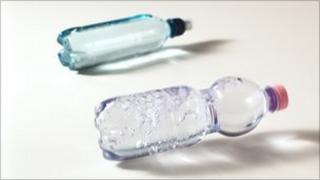 A West Yorkshire council has revealed it spent almost £25,000 on bottled water in 2010-11.
In response to a Freedom of Information request, Calderdale Council revealed it spent £24,956 on bottled water between April 2010 and March 2011.
The authority faces making cuts of £65m, with the loss of 200 jobs.
Council leader Janet Battye said it was looking at the amount of money it spent on bottled water as part of a "major review" into its finances.
The Freedom of Information request was made by road safety campaigners in Bradshaw, Halifax, who said they wanted to find out more about how the authority spent its money.
Campaigner Tom Lees said: "It's disgusting at a time when spending needs to be reduced that councils are spending the equivalent of one person's salary on bottled water.
'Duty of care'
"Is the water we all receive through our taps not good enough for Calderdale Council staff?"
The Freedom of Information request also revealed that the amount the council spent on bottled water was expected to rise to £27,489 in 2011-12.
Ms Battye said the council had a "duty of care" to provide easy access to fresh water for its employees and visitors.
"It does sound like a lot, but we have 4,000 employees and we have at least as many members of the public visiting our premises," she said.
"If you divide the one by the other, I think you'll find the cost per user is not as great as it may sound.
"However, I'm very confident that we will be able to bring that cost down."
Graham Firth, branch secretary of public sector union Unison, said he believed Calderdale Council was "keeping up with its responsibilities".