Demand doubles for Leeds Community Foundation's help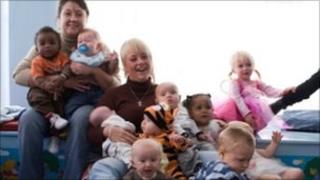 A Leeds charity that has channelled more than £4m to local groups in the past year claims it has seen demands for help double in the past six months.
The Leeds Community Foundation (LCF) provides financial support for charities working in some of the most deprived parts of the city.
LCF can give a grant to only one in three of the applications it receives and numbers are rising.
LCF's Sally-Anne Greenfield said: "We are only scratching the surface."
Ms Greenfield, the chief executive, added: "We get more requests from groups than we have money.
"It gets more demanding as cuts hit and it will only get worse."
Freedom of city
The LCF administers an endowment fund, called Jimbo's Fund, in memory of philanthropist multi-millionaire Jimi Heselden.
The former miner turned entrepreneur made his fortune with his Leeds-based firm Hesco Bastion.
He was posthumously awarded the Freedom of the City.
He donated a further £10m to his endowment fund just before he died in September 2010.
A panel that includes members of Mr Heselden's family consider the requests for money from the endowment.
Many of the grants given out by LCF are less than £5,000, to help grass-roots projects by small community groups.
Ms Greenfield said: "You can make a small amount go a long way."
One group that ran a luncheon club was awarded just £250, for a new sink, that "revolutionised" the speed with which it could serve lunch.
Established in 2005, LCF has distributed more than £13m to local groups.