Stirley community farm comes back to life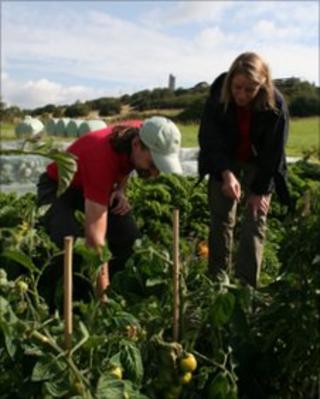 In the shadow of Castle Hill, near Huddersfield, a derelict dairy business is being brought back to life as a community farm.
Stirley Farm, a 100-acre site, has been disused for almost a decade.
The farm is now being used again, with the help of grants of £600,000.
Brian Lavell of the Yorkshire Wildlife Trust (YWT) said: "Rather than take on a working farm with its existing wildlife, we want to start and add to the diversity."
Mr Lavell, the YWT's West Yorkshire programme manager, added: "This is not an isolated nature reserve, we want to work on a landscape scale."
The farmland lies between Newsome, Almondbury and Honley. Work has started and there are two full-time staff and a team of volunteers.
Regular volunteer work parties and a gardening club learning to grow food are already being held.
When work is complete, in 2012, Stirley Farm will run education and agri-environment programmes. It will also have a commercial beef herd.
'Exciting and scary'
Local schools and colleges will visit the farm to learn more about growing food.
Kim Warren, the farm's education and training officer, said: "We will provide the opportunity to get a big range of land management and farming skills."
The farm aims to reduce food miles by supplying a demand for local food.
There are also plans for a community barn to be available for the use of local groups.
The restoration of other farm buildings and barns will be done by local people under supervision.
Mr Lavell admitted: "Rebuilding this farm is exciting and scary."
Vegetable beds have been dug and some produce is already being harvested.
The Veolia Environmental Trust recently awarded £300,00 to the project.
Stirley Farm was one of only four projects in the UK - and the only northern enterprise - to benefit out of about 1,000 applicants.
Nearly £300,000 has also been awarded by the Big Lottery Fund Local Food Initiative.
A local food fair will be held at the farm on Sunday 4 September to celebrate the start of the project.