Boy, 15, quizzed over Huddersfield arson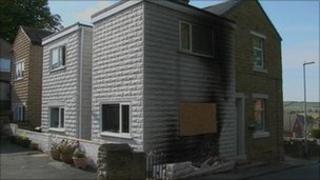 Police investigating an arson attack on a property in West Yorkshire have arrested a 15-year-old boy.
Fire crews said 77-year-old Sheila Handy was lucky to be alive after the fire at her Huddersfield home while she was asleep on Monday.
Ms Handy was woken by a neighbour who banged on her walls to wake her during the fire at the house in Holmfield Road in the early hours.
Two bins and a plastic recycling box had been set alight by the property.