Leeds Carnival: thousands enjoy event's 44th year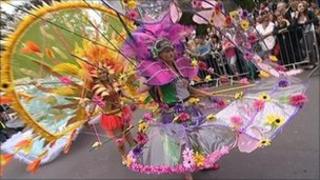 Tens of thousands of people have taken to the streets for the 44th Leeds West Indian Carnival - the oldest street event of its kind in Europe.
The carnival parade followed its traditional route from Potternewton Park through Chapeltown and Harehills.
Organisers faced an extra challenge this year after the Chapeltown carnival centre was set on fire during disorder earlier this month.
The centre in Sheepscar housed an archive charting the event's history.
Carnival chairman Arthur France said it was very sad that the archive had been damaged.
He said: "It is a setback because the carnival centre houses the biggest archive of carnival history in Europe."
Mr France, who is originally from St Kitts, organised the first West Indian carnival in Leeds, which was also the first in Europe, in 1967 when he was a student at Leeds University.