Poking About in Bradford's past portraits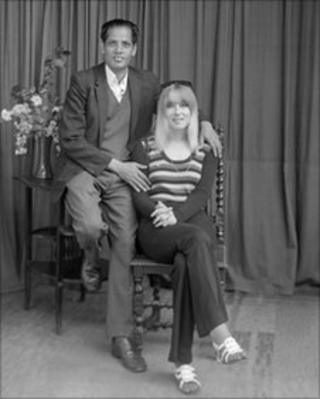 A new Bradford exhibition includes portraits of the city's residents chosen from 17,000 forgotten glass negatives recovered from a cellar.
The cellar contained pictures taken by the Belle Vue Studios that opened in 1926 on Manningham Lane.
The studio thrived as the city's new immigrant communities wanted pictures to send back "home" of life in the UK.
Jeremy Deller, a Turner Prize-winning artist, curated the Poking About exhibition.
Mr Deller said: "These pictures show the richness of Bradford.
"The pictures are very striking, often very formal and show an important part of the subjects' lives."
Many of the pictures are of people in work uniforms or with the tools of their trade.
Thrown away
Mr Deller said he had "ploughed" through thousands of contact sheets and selected 50 of his favourite pictures.
When the Belle Vue Studios closed in 1975 many glass negatives were simply thrown away but thousands were left in the cellar.
About 17,000 of these fragile glass negatives, dating from the 1950-70s, were later retrieved and are now stored in the archives of Bradford Museums.
Many of the photographs in the exhibition are being shown for the first time and include exhibits from private donations and the local Bradford Telegraph and Argus newspaper.
The earliest pictures on show date from the Victorian age.
Pictures from the Bradford Heritage Recording Unit, which documented the people and places of Bradford from 1983 to 2003, are also on display.
The exhibition, part of the Ways of Looking photographic festival, will be held at Bradford 1 Gallery from Friday until Sunday, 27 November 2011.