Yorkshire projects through to finals of Lottery awards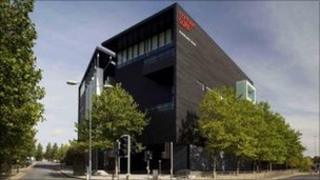 The restoration of a stately home and gardens and a £12m ballet and dance centre are among Yorkshire projects in line for a National Lottery Award.
Wentworth Castle and Stainborough Park, near Barnsley, is a finalist in the awards' Best Heritage Project category.
The Northern Ballet and Phoenix Dance Theatre, which opened in Leeds this year, is up for the Best Arts prize.
The awards showcase those who have made the best use of lottery funding and winners are voted for by the public.
The other Yorkshire finalists include the Leeds-based Altogether Better programme, which recruits, trains and supports community and workplace "Community Health Champions" across Yorkshire and the Humber to motivate and support others to improve their health and well-being.
It is competing for the Best Health Project prize in the national awards.
The York Quilt Museum and Gallery's Unfolding the Quilts programme, which trained volunteers and taught sewing and quilting skills in communities, is also up for the title of Best Heritage Project.
An Open Air Laboratories scheme in York, which encourages communities to get involved in nature, is in line for the Best Environment Project award.
Televised final
Claire Herring, director of the Wentworth Castle trust, said she was "delighted" the first phase of the castle's restoration had been voted through to the finals.
She said: "It's a wonderful achievement for everyone who has helped us to become a real jewel in Barnsley's crown."
Mark Skipper, Northern Ballet's chief executive, said: "We hope people will vote for us again, not just those who use the building but anyone who believes dance is important and can and does change peoples' lives for the better."
Roz Davies, Altogether Better's co-director, said: "It's fantastic to have this opportunity to show everyone who has ever played the lottery the real difference their money has made and how it transforms lives.
"It would mean so much to the 13,000 volunteers to win this award."
Voting takes place until 26 September and the winners will be announced at a televised event later in the year.
The accolades are awarded in seven categories: arts, sport, heritage, voluntary/charity, environment, health and education.
The winner of each category at the awards receives a £2,000 prize to spend on their project.