Holmfirth teacher 'hid partner's body in suitcase'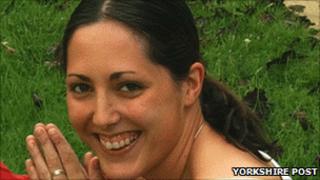 A teacher killed his partner in a "protracted and brutal attack" before putting her body in a suitcase and meeting his lover, a jury heard.
Andrew Lindo is accused of killing Marie Stewart, 30, at their home in Holmfirth, West Yorkshire, in December.
Bradford Crown Court heard her body was not found for two months.
Prosecutors said Lindo, 28, was an "inveterate and accomplished liar" who was leading a double life. He denies murder but has admitted manslaughter.
Michelle Colborne QC, prosecuting, said Mr Lindon would claim he was forced to kill Miss Stewart to protect their young daughter from mistreatment but this was not true.
Ms Colborne told the jury her murder, on 18 December, was the culmination of "a protracted and brutal attack at the home they shared with their two children".
She said: "He alleges that he was forced to kill her to protect their child, so overcome was he by that need and his pent-up emotion that he lost his self-control.
"The evidence will show that the defendant was, and is, an inveterate and accomplished liar, living a double life at the time and, moreover, setting out a defence which is untruthful and creates a wholly misleading impression of his own character and that of the deceased."
'Cut throat'
Ms Colborne told the jury Mr Lindo told police he first strangled Miss Stewart in the bedroom.
He said he then wrapped her in a duvet and tried to heave her into a suitcase, she said.
The court heard he tried to get the case down the stairs but she was making noises.
He then hit her with his daughter's chair but Miss Stewart came round so he put a belt round her neck and rendered her unconscious again.
The jury was told Mr Lindo dragged her to the garage and, when she began moaning he cut her throat.
Ms Colborne said: "The defendant said he put her body in a Virgin Atlantic flight bag, put it to the back of the garage and covered it with some carpet."
The court was told afterwards he drove to Barnsley with the children to collect his lover, Angela Rylance.
Ms Colborne described how, the day after the killing, Mr Lindon "spent an entirely pleasant day with Angela Rylance at the scene of the previous night's brutality".
Over the following weeks, Mr Lindon developed a story Miss Stewart had gone missing with another man.
The court was told he used her mobile phone to send text messages to her family and posted messages on her Facebook page "which gave the impression she had left the country and was happier than she had been in years".
Ms Colborne said the defendant received sympathy from family and friends who were appalled when Miss Stewart failed to see her children over Christmas and missed her son's first birthday.
Eventually, the police were called in and when they searched the house on 13 February, they found the body.
The court was told the pair met at Huddersfield University.
Mr Lindo worked at Henry Ward School in Brighouse and then as a music teacher at the Take Two Academy in Barnsley.
The trial continues.