Digital switchover in Yorkshire starts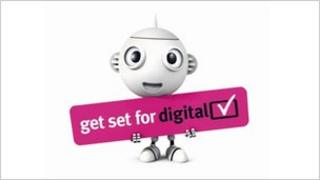 The digital switchover starts across most of Yorkshire on Wednesday as analogue signals are turned off.
The Emley Moor transmitter, which serves about four million people, will switch to digital in two stages.
On Wednesday 7 September, BBC Two will go to digital and some new digital channels will become available.
On Wednesday 21 September, all the remaining analogue channels will switch to digital and the remaining digital channels will become available.
This will affect BBC One, ITV1, Channel 4 and Channel 5.
They will be replaced with additional digital services
All terrestrial TV services will be off air during the early hours of Wednesday. They are expected to begin being restored from about 06:00 BST.
In areas which are served by relay transmitters, the services are expected to resume by mid-morning.
All Freeview, BT Vision and Top Up TV viewers will need to re-tune their equipment to regain missing channels.
The easiest way to check if a TV is affected is to look for the messages that will appear at the top of your TV screen several times a day.
The BBC is running the Switchover Helpscheme to help people convert their TV to digital if they are aged 75 or over, are eligible disabled, have lived in a care home for six months or more, or are registered blind or partially sighted.
To find out more, call the Helpscheme on 0800 40 85 910.
If viewers want to see someone in person, there will beadvice pointsat the following locations in West Yorkshire between 10:00 and 16:00 BST on Wednesday and Thursday:
Grange Interlink, Summerville Road,Bradford; KFC, Ivegate,Bradford; Castleford Civic Centre, Ferrybridge Road,Castleford; Halifax Borough Market,Halifax; The Piazza,Huddersfield; 34 George Street,Leeds; outside Debenhams, Briggate,Leeds; Gillygate,Pontefract; Kirkgate Community Centre, Kirkgate,Shipley; Todmorden Town Hall, Bridge Street,Todmorden.
On Thursday only there will be a switchover advice bus at Northgate,Wakefield.