West Yorkshire Police band play at 9/11 anniversary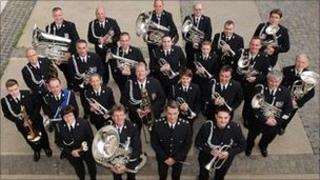 The West Yorkshire Police Band is to play in New York on the 10th anniversary of the World Trade Center terrorist attacks.
Twenty-eight members will fly out to America at their own expense to play during four days in the city.
The band will march over the Brooklyn Bridge into Manhattan on Sunday.
Band manager PC Keith Williams said: "The service will allow us to pay our own respects to the Britons who died on that terrible day 10 years ago."
He added: "We will ensure that our performance does the service and the force proud."
This is a return to New York for the band it having also played the same role during the fifth anniversary in 2006.
PC Williams said that the presence of the band added something that was "typically British".
The band is made up of five serving and two retired officers, five civilian police staff and 16 other players.
It includes an Anglican priest, a special constable, a firefighter, students and nurses.
The band will play in the British Garden in Hanover Square in Lower Manhattan along with the Lothian and Borders police choir.