Andrew Lindo trial: Couple were 'perfect family'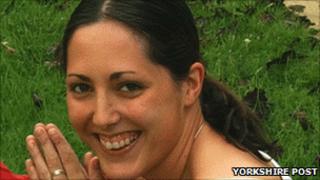 A teacher and his fiancee, whom he killed before storing her body in a bag in the garage, have been described in court as a "perfect little family".
Andrew Lindo, 28, is accused of murdering Marie Stewart, 30, at their home in Holmfirth, Yorkshire. He denies the charge but admits manslaughter.
Bradford Crown Court heard the mother-of-two's body was found in a flight bag in the garage two months later.
Friend Hollie Carter told the jury they seemed like the "perfect couple".
Prosecutors have said Mr Lindo killed Miss Stewart in a "protracted and brutal attack" on 18 December before packing away her body and meeting his lover.
Michelle Colborne QC, prosecuting, earlier told the court Mr Lindo was living a double life with his lover and was planning a future with her.
Mrs Carter told the court how Miss Stewart had been married previously but it had broken down when she had an affair with Mr Lindo.
Affair shock
The court heard Miss Stewart had been married to Martin Waldron, who was a "very good friend" of Mr Lindo.
Mrs Carter, a serving West Yorkshire Police officer, said news of the affair had been a "shock".
She told the jury how the pair moved in together but both "lost friends through the affair".
Asked to describe the couple's relationship, she said they were a "perfect little family".
The court has been told how Mr Lindo developed a story Miss Stewart had gone missing with another man.
The court was told he used her mobile phone to send text messages to her family and posted messages on her Facebook page "which gave the impression she had left the country and was happier than she had been in years".
Eventually, the police were called in and they found the body in the house on 13 February.
The trial continues.