Andrew Lindo trial: Murder accused a 'charmer'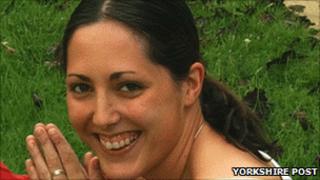 A teacher who killed his fiancee and stored her body in a bag in the garage has been described as a "charmer" who saw two women at the same time.
Andrew Lindo, 28, is accused of murdering Marie Stewart, 30, at their home in Holmfirth, Yorkshire. He denies the charge but admits manslaughter.
Bradford Crown Court heard Mr Lindo had relationships with two women while living with Miss Stewart.
The court has been told he killed Miss Stewart and went to meet his lover.
Prosecutors have said Mr Lindo killed Miss Stewart in a "protracted and brutal attack" on 18 December before packing away her body in a flight bag and meeting his lover, Angela Rylance.
The court was told of previous relationships Mr Lindo had had with teachers Alison Doram and Amy Wilde.
In a statement read to the court, Miss Wilde, who was married at the time, said she met Mr Lindo through the Take 2 Centre in Barnsley where they worked.
They became good friends and "flirted" and exchanged text messages when she went on holiday with her husband.
She said she "fell for Andrew increasingly" but it was noticed by her husband.
'Liar and cheat'
Her statement said her relationship with Mr Lindo progressed to kissing and cuddling but "fizzled out by mutual agreement" and did not become sexual.
She said Mr Lindo had maintained to her that Miss Stewart had left him in the summer of 2009 and was "off the scene".
She eventually spoke to Miss Doram, who was also in a relationship with Mr Lindo.
Recalling that relationship, Miss Doram said in a statement that she stayed over at Mr Lindo's home one night but saw no suggestion of a woman.
"I believed I was in a relationship with Andrew exclusively."
She said she eventually looked at Miss Stewart's Facebook profile which said she was engaged and that Mr Lindo had been away for the weekend.
Her statement added: "I cried a lot. He denied anything to do with Marie."
She described Mr Lindo as a "nice person, a charmer" but said he was "a liar and a cheat".
The court has been told how after killing Miss Stewart, Mr Lindo developed a story she had gone missing with another man.
Miss Stewart's father Robert, also giving evidence, told the jury he and the family became increasingly anxious when they did not hear from her last Christmas.
Asked if he had any suspicions anything untoward had happened to his daughter, he said: "I had no fear at that point that anything like that could have happened.
"Andrew was a very plausible actor and he managed to convince a whole series of other people Marie had initially gone abroad to this caravan and subsequently gone abroad."
He said he believed his daughter had left "because she found out Andrew was having an affair".
The court was told eventually the police were called in and they found the body in the house on 13 February.
The trial continues.