Leeds pastor Beth Tash takes on city nightlife role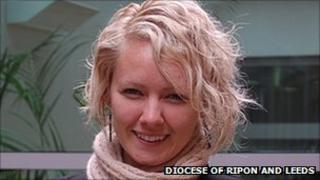 Clubbers and pubgoers in Leeds are to get their own Christian pastor, with the appointment of the city's first minister for nightlife.
Beth Tash, 27, a former student and youth pastor, has been appointed as the Church of England's Pioneer Minister to the Night Time Economy in Leeds.
Ms Tash said she hoped to spend her first few months meeting revellers, night workers and other Christians.
She said she hoped to bring a "message of life and a mission of love".
Ms Tash took on her new role at a special service at the Royal Armouries in Leeds.
She said she aimed to get to the heart of nightlife in Leeds.
'Hanging out'
"It's about being a missionary to the clubs and bars as things happen out and about in the city," she said.
"It's about making friends with people, hanging out with no other agenda."
The Archdeacon of Leeds, the Venerable Peter Burrows, said the Church of England recognised it needed to do more to serve the night time economy in Leeds.
"If you go into Leeds on any Friday or Saturday night and see the huge number of young people coming into the city, it is obvious the church isn't engaging with the club culture," he said.
Maveer Singh-Pangu, events manager at Norman Bar in Leeds, said he was unsure what the reaction of clubbers would be.
"Everyone has an opinion and their own way of thinking, but you should never push anything on people," he said.
However, the archdeacon said Ms Tash's new role was simply to "engage" with young people.
"We are not expecting Beth to get on a soapbox in clubs and preach the Gospel," he said.
"It's about being alongside people at times of need and times of joy."