Dog attack boy, 9, 'curled into ball' to save himself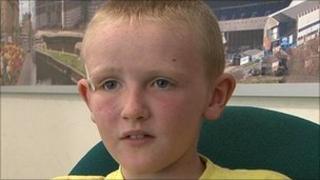 A nine-year-old Leeds boy has described how he "curled up into a little ball" to save himself from two dogs who attacked him while he was playing.
Ethan Hewitt, from Rothwell, suffered a broken wrist and injuries to his face and head when the dogs attacked him in Middleton Woods on Sunday.
The dogs' owner stopped the attack but then walked off, while Ethan had to be treated at Leeds General Infirmary.
Police have appealed for the owner of the two dogs to come forward.
Ethan was playing on a swing with his 13-year-old cousin Matthew when the dogs, who were not on leads, ran towards him.
He said the dogs pulled him from the swing and he then rolled down a nearby slope to try and protect himself.
"They started on my head and then on my elbow and that hurt," he said.
"But what hurt me most was my eye which was bleeding."
'Dread to think'
Ethan said his cousin showed "guts" by lifting him out of danger and calling for help.
The youngster said the attack had left him afraid of dogs and will now not "go near them".
Police said the owner of the two dogs had still not come forward, and described him as "very callous".
Ethan's mother, Karena Clowes, said she had "no words" to describe someone who would leave an injured child behind.
"He just walked off and didn't even call for help," she said.
"I dread to think what could have happened to my son."
The man is described as white, in his 30s, with a bald head and about 5ft 10in tall.
He wore a light blue polo shirt, light blue jeans and white Nike trainers.
The dogs are described as being similar to Staffordshire bull terriers, one being black and white and "quite large", the other small and black.