Andrew Lindo trial: 'Killer's cuddles' with lover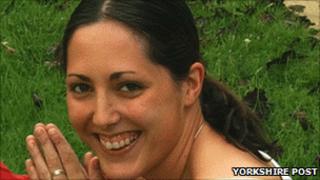 A woman has told how she spent the night cuddling a music teacher in his bedroom just hours after he allegedly murdered his partner.
Angela Rylance told Bradford Crown Court she started a relationship with Andrew Lindo, 29, who told him Marie Stewart had left him and was "mental".
Mr Lindo, of Holmfirth, West Yorkshire, has admitted the manslaughter of Miss Stewart but denies murder.
The court heard he killed her and put her body in a bag in the garage.
Prosecutors say the killing happened on the night of 18 December but Mr Lindo denies it happened on that date.
Giving evidence, Ms Rylance was asked about the night of 18 December by Michelle Colborne, QC, prosecuting.
She described how Mr Lindo picked her up in Barnsley, South Yorkshire, with his young son and daughter in the car - children he had with Miss Stewart - and drove back to his house in Perseverance Place.
Ms Rylance said: "He told me how much he loved me."
She said they went to bed after putting on new bedclothes.
She told the jury: "We didn't have sex. We just cuddled all night. He said he'd never hurt me."
Earlier, Ms Rylance explained how she began a relationship with Mr Lindo after he met her in a money shop in Barnsley where she was worked last August.
Get married
She said she soon became suspicious about the defendant's claim to be a single father when she accessed Miss Stewart's Facebook profile.
But she said Mr Lindo kept reassuring her they were no longer together and Miss Stewart had left their children with him.
Ms Rylance, who had two children, said their relationship developed and became sexual.
She said: "He told me I was amazing - I was beautiful.
"I actually believed him and thought we would get married."
She told the jury she went to Mr Lindo's home on Christmas Day and they performed a "toast to us".
She said: "I asked if Marie had sent anything to the children and he said not."
She said Mr Lindo had told her Miss Stewart had left her flat and gone abroad.
"He wasn't bothered, he didn't care," she said.
Under cross-examination, Ms Rylance told the court that on 18 December, she believed she might be pregnant.
But she said she started bleeding and Mr Lindo said: "Poor baby. My poor baby."
Ms Rylance mentioned this after she was asked by Robert Smith, QC, defending, whether she had seen any "tears from him" on that night.
She said she did, in the bedroom, when they were cuddling.
Asked if he was crying, she said: "No. I just remember a tear falling down his face."
After explaining about the bleeding, she said: "I thought he was crying because of that."
The court has heard how Miss Stewart's body remained in the garage at the house until it was found by police on 13 February.
The trial continues.