Th'Owd Towser in Holmfirth opens for heritage weekend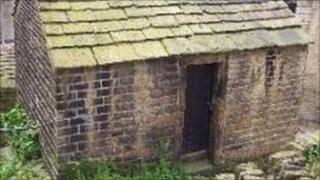 From the outside it is an unremarkable stone building but the oddly-named Th'Owd Towser has been a jail, mortuary and even a fire station during its long life.
It is possibly the oldest building in Holmfirth, West Yorkshire, dating from some time around 1600.
Built next to the parish church it lies on land known as God's Acre.
The historical building is open over Saturday and Sunday, giving a rare chance for visitors to look inside.
It is one of hundreds of unusual buildings opening for the England-wide Heritage Open Days.
Margaret Hinchliffe, chairman of the local civic society, said: "It is such a small building and insignificant, even from the inside, but people are surprised when they hear such interesting stories."
Prisoners chained
Although the building on Daisy Lane has been rebuilt during its history, it is believed still to stand on the original foundations.
Built on a steep hill there are two floors; the top has two bare rooms and it is the smaller of these that served as a jail.
Visitors can still see the iron ring in the floor where prisoners were chained.
There is only one tiny window and a ledge on which a candle is placed for lighting
Approached from the other side of the building is a larger single room, about 12ft (4m) by 10ft (3m).
It was here that Holmfirth once kept a rudimentary fire engine, although many of the other uses for this room are unknown.
'Coin clipping'
The building was already old when it held one of its notorious prisoners, the Reverend Edmund Robinson in 1685.
He was assistant to the parish priest but parishioners grew suspicious of the amount of money he seemed to have on a clergy stipend.
Villagers searched his house and found evidence of the fraud of "coin clipping".
He was held captive in his own church's jail before his trial at York assizes, where he was found guilty and hanged.