Mother's safety appeal at Horbury Lagoon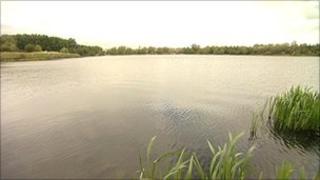 A mother whose son died swimming in a West Yorkshire lagoon has made an appeal for better safety measures to be put in place.
Shaun Hall, 18, died at Horbury lagoon, near Wakefield, in August 2007.
His mother Tracy Hall said she was "thrilled" there are now some lifebuoys in place, but said "there is plenty of work to be done to make it even safer".
Andrew Balchin, from Wakefield Council, urged people to keep out of the water and heed warning signs at the site.
Mrs Hall, speaking to the BBC from the edge of the water, said she did not want to stop young people having fun, nor did she want them to stop coming to the water.
"I just need them to be safe," she added.
The lagoon was formed from old gravel pits and the water covers about five acres (two hectares).
Area 'neglected'
The council said the lifebuoys at the lagoon are checked on a regular basis and it takes water safety at the site "very seriously".
It also said it carries out regular clean-ups at the site and responds to complaints about the lagoon as soon as possible.
The Friends of Horbury Lagoon, a voluntary group, helps to pick litter and cut back undergrowth around the water.
Richard Wakefield, who is from the group, said the area "had been neglected for tens of years".
The group is now working with the council to improve the area.
Anyone who witnesses people damaging the lifebuoys is asked to report it to the police and to Wakefield Council.