Leeds presents bid for government's £3bn 'green bank'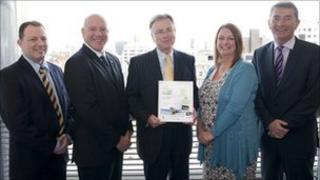 A delegation from Leeds is travelling to London to present a business case to host the government's new Green Investment Bank.
The national bank is being set up with £3bn of public money to help firms fund renewable energy schemes.
Leeds will be competing against other cities, including Bristol, Manchester and Edinburgh.
Supporters have said Leeds is the UK's largest financial and professional services centre outside London.
The delegation is travelling to Westminster on Tuesday morning to present the case to MPs.
The bid is a joint venture between the public and private sector including Leeds, York and North Yorkshire Chamber of Commerce and the Leeds City Region Local Enterprise Partnership (LEP) - a partnership between 11 local councils.
Paul Hamer, member of the Leeds City Region LEP board, said: "We are convinced that only Leeds City Region has everything that is needed to guarantee the bank's success, and we want the politicians in Westminster to understand this."
The "green bank" will become the world's first public bank dedicated to the green economy.
Supporters said the Leeds City Region was already home to "many of the dynamic green investment opportunities which the bank will seek to support".
They said if the bid was successful, it would "strengthen its status as a leader in the green economy, creating jobs and attracting investment".
The Department for Business, Innovation and Skills will compare all submitted bids, and the Deputy Prime Minister Nick Clegg said the bank would begin operating from April 2012.