Parents of Halifax road death boy back speed cut campaign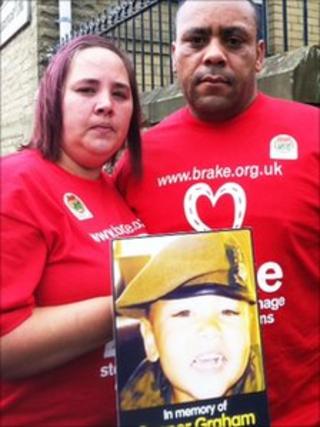 The parents of a toddler hit by a car and killed on a road outside a Halifax nursery have a backed a campaign urging drivers to slow down.
Connor Graham was aged two-and-a-half when he was knocked down after leaving the Stepping Stones Nursery in Boothtown in August 2006.
His parents are supporting a campaign calling on drivers to cut their speed to 20mph near schools and nurseries.
Connor's mother, Paula Luders, said: "There is no need to speed."
Ms Luders was collecting Connor and his twin brother Corey from nursery when Connor slipped from his mother's grip and ran into the path of an oncoming vehicle.
The campaign by road safety charity Brake is urging drivers to slow down to 20mph or below in communities, especially when driving near schools and nurseries.
Ms Luders said their son's death was still difficult to deal with five years on.
"There's always stuff, Christmas, birthdays and obviously with him being twin... he would have been playing football with Corey.
"It doesn't get any easier, we just learn to deal with it."
Julie Townsend, campaign director at Brake, said: "No family should have to go through what Connor Graham's family experienced and drivers can help stop these tragedies by slowing to 20mph or below around schools and homes."