Teacher Andrew Lindo describes killing Marie Stewart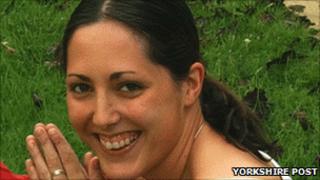 A music teacher cried as he told police how he strangled, battered and than stabbed his fiancee in a "clumsy nightmare", a jury heard.
Andrew Lindo said he "lost it" after a row in which he accused Marie Stewart of mistreating their young daughter.
Bradford Crown Court has heard how Mr Lindo, 29, hid Miss Stewart's body in a suitcase in their garage after killing her in February this year.
Mr Lindo, of Holmfirth, West Yorkshire, admits manslaughter but denies murder.
During police interviews Mr Lindo said his 30-year-old partner started hitting him in the bedroom of their home and he grabbed her arms to try to stop her, the court heard.
'Snowballed from there'
The jury heard a recording of the interview, in which he told officers that he sat on top of Miss Stewart and she spat in his face.
"It just snowballed from there," he said.
"It was like this nightmare. I just grabbed hold of her throat and started squeezing it. Everything happened so fast. It was just so weird. I just thought I've got to get this woman away from my daughter."
At one point Mr Lindo started crying as he listened to the taped police recordings.
The jury was told he hit Miss Stewart over the head with a children's chair, covered her face with bubble wrap and then stabbed her in the neck with a kitchen knife.
Later, he described placing her body in a flight bag and storing it the garage.
"I just picked her up by the hips. It was all very clumsy. I didn't want to see her face."
He went on to describe the killing as a "clumsy nightmare".
"I just lost it, it was like it wasn't me," he said.
Earlier, the jury heard Mr Lindo tell police Miss Stewart had left him for another man and he was "not really bothered".
He said their relationship had deteriorated, and since the birth of his son he had slept on a sofa bed in the front room.
"She was just so rude, so demeaning towards me. The way she talked to me was so belittling," the jury heard him say.
The trial was adjourned until Thursday.