Terry George encourages Leeds boys to aim for university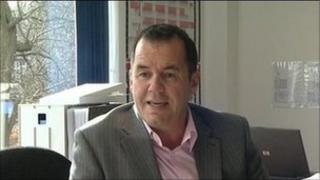 A new scheme is being launched by a Leeds entrepreneur to encourage working class teenage boys to go to university.
Terry George, who featured on Channel 4's The Secret Millionaire, is sponsoring the project at Leeds Metropolitan University.
Working with city schools, it aims to raise the aspirations of boys who would not normally consider university.
Mr George grew up on a council estate and left school with no qualifications.
Working with boys starting from year nine and throughout their school life, the Aspire 2 Achieve project will enable pupils to visit universities and get taster sessions on courses.
They will also get help on revision and careers as well as advice and preparation for university applications.
Mr George, who hails from the city's Wyther Park council estate, made his money running nightclubs and bars on the gay scene in Leeds, before setting up other businesses.
He said: "Leaving school without any qualifications meant that I never had the opportunity to go to university.
"The Aspire 2 Achieve programme is something I feel passionately about because it raises the aspirations of young people from similar backgrounds to mine and gives them the chance to make the right choices about their future."
Chris Morley, involved in the project, said: "Aspire 2 Achieve offers young boys, from backgrounds not traditionally associated with higher education, the chance to investigate and experience some of the opportunities that a university education can offer."