Teacher Andrew Lindo giving no evidence in murder trial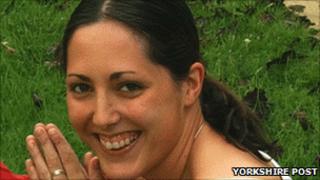 A music teacher accused of murdering his fiancee and storing her body in a suitcase will not give evidence at his trial, the jury has heard.
Andrew Lindo, 29, has admitted strangling, beating and then stabbing Marie Stewart at their home in Holmfirth, West Yorkshire, in February.
Bradford Crown Court heard he "lost it" after a row in which he accused Miss Stewart of mistreating their daughter.
Mr Lindo has admitted manslaughter but denies murder.
At the completion of the prosecution case on Thursday Mr Lindo's barrister, Robert Smith QC, told the judge: "My Lord, we call no evidence."
The judge, Mr Justice Smith, asked the barrister if his client had been advised that the jury "may draw such inference as appear proper?"
His barrister replied: "We have advised him verbally and in writing."
Earlier in her closing speech, prosecutor Michelle Colborne QC said Mr Lindo "was and is capable of practising monumental deceit".
She said: "That facility to lie with conviction and with ease is his stock in trade."
Ms Colborne said Mr Lindo had failed to enter the witness box and give his account of what happened.
She told the jury: "There are no answers and none that withstand any scrutiny."
The jury has heard how Miss Stewart's body was not found for several weeks, during which time Mr Lindo allegedly used her Facebook profile and mobile phone to convince her family and friends she had deserted her children and was with a new man.
It was alleged Mr Lindo was living a double life with another woman and was planning a future with her.
The trial continues.