Notorious 'pile of bricks' art on display in Huddersfield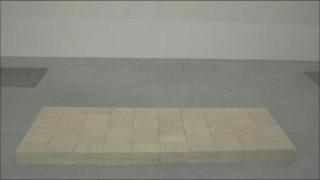 A notorious sculpture described by many as a "pile of bricks" is featuring at Huddersfield Art Gallery.
The Tate Gallery's purchase of Carl Andre's Equivalent VIII caused a storm in 1976, with critics asking why public money had been spent on the artwork.
It will be displayed alongside works from other artists and sculptors such as Henry Moore and Sarah Staton.
The Fields of Contention exhibition will run for eight weeks.
Councillor Jean Calvert, lead cabinet member for health, wellbeing and communities, said: "This sculpture is well known for the huge stir it caused back in the 70s and because of that, people still flock to see what all the fuss was about.
"That we're able to have it on display here in Huddersfield is a great accolade for the town and I hope as many of our residents as possible take the opportunity to come and have a look for themselves."