Andrew Lindo trial: murder accused 'was devoted father'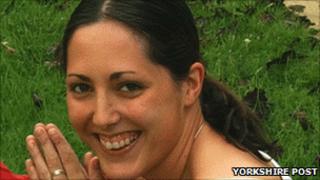 A man accused of murdering his fiancee and storing her body in a suitcase was a devoted father who had never before been violent, his lawyer told a court.
Andrew Lindo, 29, has admitted strangling, beating and then stabbing Marie Stewart at their home in Holmfirth, West Yorkshire, in February.
Robert Smith, QC, defending, said the victim's injuries indicated a "sudden and unavoidable loss of self control".
Mr Lindo admits manslaughter but denies murdering his partner on 18 December.
Mr Smith told the jury at Bradford Crown Court that Mr Lindo "loved his children and was devoted to them".
The killing had not been planned or premeditated, he said.
'Complete mess'
"What other explanation is there for the killing? That something happened in that house to tip him over the edge," said Mr Smith.
He conceded his client's life "was a complete mess" and he had lied.
But he said Miss Stewart "had faults as well" and could be irritable and argumentative as she juggled looking after two children and a demanding job.
He said his client sought his emotional needs from other women and although he had been described as a philanderer, Mr Smith added: "Let's not think he was playing away all the time.
"What makes a man like that to do something as terrible as this?
"To inflict blunt force trauma injuries on her, to strangle her and stab her.
"Stab her not once or twice but possibly 12 times," he told the jury.
'Emotion and prejudice'
Lindo told police officers how his relationship with Miss Stewart had deteriorated and she was rude and demeaning towards him.
The jury has heard that Miss Stewart's body was not found for several weeks during which time Lindo allegedly used her Facebook profile and mobile phone to convince her family and friends she had deserted her young son and daughter and was with a new man.
It was alleged Lindo was living a double life with another woman, Angela Rylance, and was planning a future with her.
Mr Smith told the jury his actions on the night of the killing were totally out of character.
"You are entitled to ask whether there is some other explanation for Marie Stewart's death, rather than the explanation put forward by the prosecution that he wanted Angela Rylance in his house that night.
"Once emotion and prejudice are put aside and the evidence examined carefully, there are compelling reasons that Andrew Lindo is not guilty of murder."
The trial continues.