Andrew Lindo trial: Teacher guilty of fiancee murder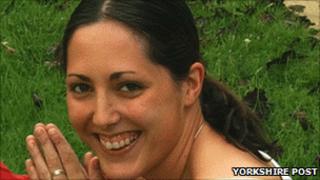 A music teacher who strangled, beat and stabbed his fiancee to death and hid her body in a suitcase has been found guilty of murder.
Andrew Lindo, 29, killed Marie Stewart at their home in Holmfirth, West Yorkshire, in December.
He admitted manslaughter but was convicted of murder after a 10-day trial at Bradford Crown Court.
Lindo stored the body of Miss Stewart - the mother of his two children - in the garage. She was found two months later.
He will be sentenced on Wednesday.
Lindo claimed he killed Miss Stewart, 30, after losing control during a row in which he accused her of mistreating their daughter.
Bubble wrap
The prosecution told the jury the accusations were untrue and Lindo was an "inveterate and accomplished liar" who killed his partner in a "protracted and brutal attack".
Lindo hit Miss Stewart over the head with a children's chair, covered her face with bubble wrap and then stabbed her in the neck with a kitchen knife. She died of multiple stab wounds.
Miss Stewart's mother, Helen, was in tears after the jury of four women and eight men returned their verdict after less than an hour of deliberation.
Other members of the family, including Miss Stewart's sister Katie, were also crying in the packed public gallery.
Lindo, who wore a smart grey suit and was flanked by two security officers, showed little emotion.
He bowed his head as the foreman spoke and continued to look at the floor.
The jury heard Lindo comforted his children after murdering their mother and carried on as normal.
For seven weeks he convinced his fiancee's family and friends she was still alive, posting messages through her Facebook profile and using her mobile phone to tell them she had left him and moved abroad.
But when friends and family became suspicious, the police were called and officers found her body in the garage.
The court heard Lindo had been living a double life, having affairs with a number of women.
He collected one of those women, Angela Rylance, within hours of killing Miss Stewart and brought her back to his house where they "cuddled" through the night.
Miss Rylance told the court during the trial she spent Christmas Day at the house, not realising Miss Stewart's body was in the garage below.
She said of Lindo: "He said what a fantastic Christmas it had been - the best one ever."