Bradford unemployment blackspots emerging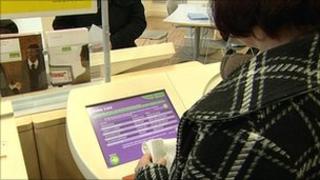 Large parts of Bradford are emerging as unemployment blackspots, according to a new report written for MPs.
The number of people claiming Jobseeker's Allowance (JSA) in the Bradford West constituency has risen almost 33% to 4,926 over the last year.
In neighbouring Bradford East there has been a 20% increase to 5,008 claimants, while the average UK increase is 8%.
The Unemployment by Constituency report also revealed the number of claimants in Bradford South increased by 16%.
The allowance is paid to people of working age who are out of work or working less than 16 hours a week.
Jobseeker's Allowance is paid while people are looking for work.
Geraldine Howley, chief executive of Incommunication, which provides affordable homes for rent across Bradford, said there was "huge demand" to be one of the company's 30 apprentices.
She said 600 people had recently applied for the latest six apprenticeship posts.
'Like gold dust'
Corey Woodhouse, who was successful, described his new apprenticeship with Incommunication as "like gold dust".
A qualified but unemployed decorator who was entering a Bradford Job Centre said: "It's murder, there's nothing out there since all the council work got stopped."
Between August 2010 to August 2011, 557 UK constituencies saw a rise in JSA claimants while 92 recorded a fall.
The report shows unemployment in Yorkshire and the Humber region is the third highest at 9.1% - the national average is 7.9%.
September's research paper shows young people are being hit the hardest.
The national unemployment rate for those aged 16-24 is almost 21%, the highest it has been since comparable figures began in 1992.
The Unemployment by Constituency report is published for MPs every month.
It looks at unemployment in each parliamentary constituency in the UK, with figures comparing August 2010 with August 2011.