House bricks to be made of sewage from plant in Leeds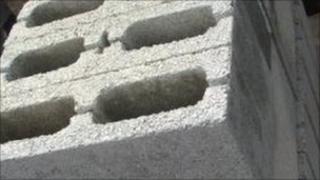 Bricks and building blocks used to construct houses could soon be made from incinerated sewage if a plan being trialled in Yorkshire is successful.
Yorkshire Water said it was in partnership with a company using burned sewage from a treatment plant at Knostrop, Leeds, to produce the "carbon neutral" house bricks.
The burned sludge combines ash with vegetable oil to create the bricks.
Yorkshire Water said future building regulations would demand lower carbon.
Jon Brigg, a spokesman for Yorkshire Water, said the bricks and blocks were classed as carbon negative because the plants used to make the vegetable oil have absorbed CO2 from the atmosphere.
He said: "We are always looking for ways in which we can make the best use of our waste to have a positive impact on our environment, and this project is a great way to reuse incinerated sludge ash which has traditionally been sent to landfill.
"With new building regulations coming into force in the next few years home builders will need to reduce the embedded carbon cost of all new homes - the bricks and blocks will provide a perfect alternative to traditional house bricks."