Second World Curry Festival begins in Leeds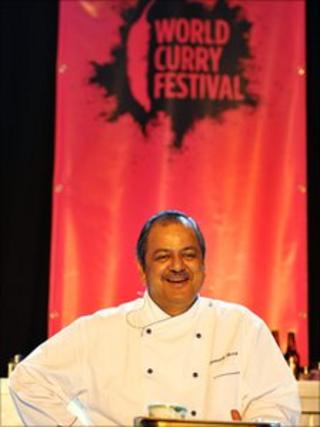 Thousands of curry fans are expected in Leeds this weekend as the city hosts the World Curry Festival for the second year running.
The three-day event, which starts on Friday in Victoria Gardens, will feature demonstrations from award-winning curry chefs.
There is also a restaurant, stalls and exhibitions, a live music stage and curry-making classes.
Tickets for the event are free and can be ordered on the event's website.
Leeds hosted the first World Curry Festival last year. More than 20,000 people are expected to attend this year's event.
Festival director Zulfi Karim said: "The line up keeps getting more exciting by the day.
"Every chef who is appearing in our cooking theatre has something unique to offer. it's not just about Asian food either, Barrington Douglas has a fantastic take on Caribbean curries and we have some of the UK's very best vegetarian curry chefs on board too."
He added: "If you love curry then this is one event you simply can't afford to miss."
Celebrity chefs taking part in the festival include Hemant Oberoi, the chef at the Taj Hotel in Mumbai, who Mr Karim has described as the "world's greatest curry chef".