Leeds Utd v Man Utd: 14 men charged over disorder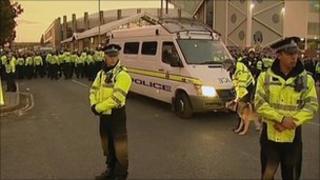 Fourteen men are to face court over disorder at the Carling Cup match in Leeds on Tuesday night.
Two police officers were injured and 24 people were arrested as trouble flared at the game between Leeds United and Manchester United at Elland Road.
Police said the men, aged between 19 and 58, would appear before Leeds magistrates between 4 and 6 October.
Officers are studying hundreds of hours of CCTV footage and anticipate making more arrests in the coming weeks.
The 14 men are accused of offences including being drunk and disorderly, throwing a missile on to the playing field, ticket touting, indecent and racial chanting and drugs possession.
Three men were released on bail after being arrested on suspicion of public order offences while one man received a fixed penalty notice for being drunk and disorderly.
Two 16-year-old boys received reprimands for public order offences.
Four men aged 19, 23, 45 and 46 were arrested on suspicion of making off without payment and were later released without charge.
During the match, missiles were hurled at police and a male fan was assaulted and knocked unconscious.
Police have described the disorder as "shocking".
Hundreds of West Yorkshire Police officers were on patrol for the game in an effort to keep trouble to a minimum.
The injured officers were hurt in an incident prior to the match with further trouble erupting when the game ended 3-0 to Manchester United.