'Mother' held after Bradford boy's body found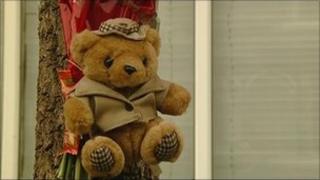 The mother of a young boy is understood to have been arrested after his decomposed body was found in a house.
Officers were called to the terrace property in Heaton, Bradford, at about 14:40 BST on Wednesday.
The body is believed to be that of a three-year-old boy. He is understood to have been dead for some time.
A 41-year-old woman and a 22-year-old man have been arrested and are in custody. The man is also believed to be a relative of the boy.
A West Yorkshire Police spokesman said officers went to the house after "concerns were raised about the occupants".
He added: "Inquiries are ongoing to establish the cause of death of the child."
A single Police Community Support Officer was outside the house on Friday.
A bunch a flowers with a small teddy attached had been tied to a tree in the small front garden.
A note on it, addressed to the little boy, said: "Sleep tight little angel."