Huddersfield twins join army on the same day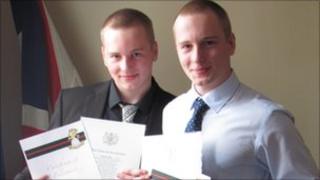 Twin brothers have joined the Army together on the same day despite their mother's concerns.
The 17-year-olds Martin and Nathan Slater, from Huddersfield, have joined the 3rd Battalion, The Yorkshire Regiment.
They will begin training at the Infantry Training Centre at Catterick, North Yorkshire, in September.
Warrant Officers Class Two, Nick McConnell, senior recruiter at the Huddersfield Army Careers Information Office (ACIO), said: "To have a pair of twins enlisting into the Army on the same day is a rarity.
"Let alone two young men who are joining the same regiment and will undertake their training together."
Mother's concern
Their mother, Helen Sutton, admits she is concerned about her sons' career choice.
She said: "Infantry is mainly front line - I would like to think they would be somewhere further back preferably in this country.
"It is scary. I might not be happy about it but I will always support them."
The twins believe their closeness will get them through training and say the Army has been their dream since they were 10.
Nathan Slater said: "We don't fight over anything, we don't get upset with each other.
"I think it's quite rare for people our age to know what path they want their lives to take."
Martin Slater added: "I have good idea of what to expect when I go to Catterick and I can now concentrate on enjoying my time there, making new friends and learning how to be a soldier.
"Even better is the fact that I will have my best friend and twin there to share all of my experiences with."
'Scary world'
Their career choice is supported by their grandfather, who enlisted as a private in the Black Watch at the same age as the twins.
Ian England, 76, said: "The main thing I've instilled into them is the discipline they'll get and once they've overcome having someone tell them what to do and do it quickly then they will get on really well."
Martin Slater said: "He has given us a great insight into what Army life is like from his past experiences."
The twins could be on an operational tour of duty within nine months and admit they are nervous.
They said: "There is the threat of getting shot or blown up it is a scary world out there but as long as we do the country proud then we will be happy."