Bradford's Martin Bell gets posthumous George Medal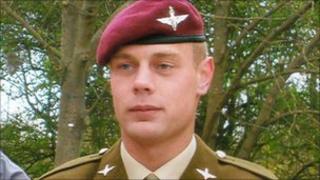 A Bradford paratrooper who was killed in Afghanistan while going to the aid of a wounded friend, is to receive a posthumous George Medal.
Pte Martin Bell, 24, was killed in an explosion in Helmand province in January 2011. His actions saved the man's life.
He was on his first tour of Afghanistan, serving with the 2nd Battalion the Parachute Regiment.
His mother said her son would have been "immensely proud" of the award.
Before he was killed by an improvised explosive device (IED), Pte Bell ignored an order not to move from his position to reach his wounded friend and applied a tourniquet to stem the blood flow.
His family will pick up the medal in a ceremony to be held at Buckingham Palace later in the year.
'Immensely proud'
His mother Elaine Bell said: "The last few months have been a bit of a rollercoaster.
"I'm really grateful that the commanding officer has put his name forward. It's wonderful to be recognised for what he did. It's also on behalf of the other lads out there.
"Martin was very modest. But he would have been immensely proud."
The George Medal is awarded for gallantry not directly in the face of the enemy. Twelve of the medals have been awarded to military personnel serving in Afghanistan since 2001.