Wragby riding stable fire: Father tried to save girl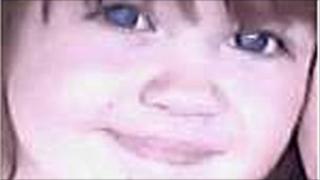 A two-year-old girl died in a burning van during a fire at a West Yorkshire riding stables despite attempts by her mother and stepfather to save her.
The 37-year-old man saved his one-year-old daughter from the blazing vehicle at Hessle Farm, in Wragby, Wakefield, on Friday evening.
But the girl's two-year-old stepsister, Isobel June Dobson, of South Elmsall, died in the van.
The man and his surviving daughter were treated in hospital for burns.
They spent the night in hospital but have since been discharged.
A West Yorkshire Police spokesman said: "Isobel and her one-year-old stepsister were in the van when the fire broke out and despite efforts by her 37-year-old stepfather and mother they were only able to rescue the one-year-old girl before being beaten back by the flames and injured.
"The family, including the girl's 22-year-old mum, had been at the farm tending to a horse before the fire broke out."
About 20 horses in nearby stables were led to safety by their owners during Friday's incident.
Assistant Chief Fire Officer Martyn Redfearn, of West Yorkshire Fire Service, confirmed that the dead child had been found in the van which had been parked next to one of the barns.
He said the father had rescued the one-year-old from the vehicle and had tried to rescue the other child with the help of other horse owners.
The cause of the blaze is still unknown and investigations continue.
Mr Redfearn said: "Our condolences go out to the family and friends of the child.
"The firefighters worked very hard and were very moved dealing with this scene, as we always are dealing with tragedies like this."
Barns on fire
He said the fire had been "extremely difficult" to tackle because of limited water supplies.
Mr Redfearn said the fire was now "substantially" out but firefighters remained on the scene.
The fire service initially sent 10 fire engines. A further 10 were later dispatched to relieve the initial crews at the site, near Pontefract.
Electricity supplies to 115 homes in Ackworth and Featherstone were turned off by power engineers at the request of the fire service.
An eyewitness said three of four barns had been on fire and flames had been about 50m (150ft) high.
King Royd Lane in Hessle is closed in both directions between the A638 Doncaster Road junction and the B6428 Went Lane junction.