Leeds river safety warning to new students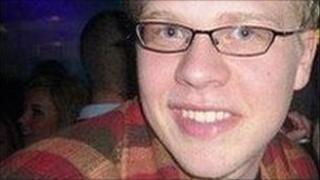 Freshers arriving at universities in Leeds are being warned about the dangers of the city's waterfront areas after the deaths of two students.
Leeds University geography student Matthew Wilcox drowned in the River Aire in the city centre last year.
His death came two years after another 19-year-old student, Gavin Terry, died in the river after a night out.
Leeds Riverside Safety Group has been talking to new students and handing out new waterfront safety leaflets.
It was set up to alert people to the dangers around water and to work with landowners and other groups to encourage safety improvements around open waterways.
Matthew Wilcox, from Wickersley, near Rotherham, was pulled from the River Aire on 5 March 2010. He had been missing for a week.
His death led to calls for more secure fencing or railings along the riverbank. A gap in fencing close to where he drowned was subsequently closed off by the private landowner.
'After dark'
The Leeds Riverside Safety Group's members include representatives from Leeds City Council, British Waterways, West Yorkshire Fire Service, West Yorkshire Police, Aire Action Leeds and local universities.
Chairman Richard Lewis, executive member for development at Leeds City Council, said: "Leeds is one of the biggest student cities in the country and we wanted to make sure that our message got out to as many of the new arrivals as possible.
"The Leeds Riverside Safety Group is working actively with a number of different groups to try to target those people most likely to encounter the risks of open water, particularly after dark and when alcohol is involved."
The group is also working on a campaign to get its message to the wider community in the city.
Its members have met organisations such as the City Centre Pubwatch group to encourage them to give out safety warnings and look out for vulnerable people as they close for the night.