Isobel Dobson death: Stepfather arrested over fire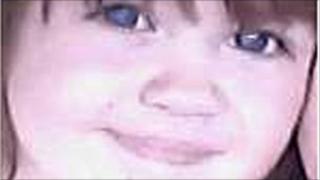 A man has been arrested after a fire at a riding stables in which his two-year-old stepdaughter died.
Isobel Dobson died in a van which caught fire during the blaze at Hessle Farm, in Wragby, near Wakefield, West Yorkshire on Friday evening.
Isobel's mother and 37-year-old stepfather rescued their one-year-old daughter, but could not save her.
Police said a 37-year-old Wakefield man was arrested on Saturday and the fire was now being treated as suspicious.
A joint investigation by West Yorkshire Police and West Yorkshire Fire and Rescue Service is continuing.
Led to safety
On Saturday, police and firefighters described how the two girls had become trapped in the van and despite the efforts of her stepfather and mother, two-year-old Isobel could not be saved.
The family had been at the farm tending to a horse before the fire broke out in a barn being used to store hay.
The fire rapidly spread though three barns and then to the family's van which was parked nearby.
About 20 horses in the neighbouring stables were led to safety by their owners during Friday evening's incident.
Witnesses said that at the height of the fire flames had been about 50m (150ft) high.
About 100 firefighters were called out to tackle the blaze.