Leeds Bradford airport taxi rank 'could cost £1m'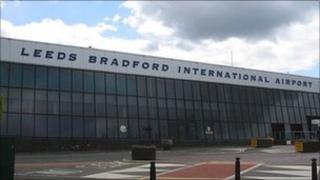 A new taxi rank near Leeds Bradford International Airport (LBIA) could cost taxpayers almost £1m, according to council officials.
Leeds City Council is considering building a rank on Whitehouse Lane to deal with traffic problems.
The airport introduced a drop-off charge in May and the council said this had increased traffic congestion.
In a report to councillors, officials said the rank was not an "ideal solution" due to rising costs.
With the introduction of the £2 drop-off charge in May, the report said, more and more drivers were performing U-turns or illegally parking to avoid paying.
It added: "The existing arrangements and particularly their negative impact on access traffic, especially dropping off on Whitehouse Lane, are considered to be unsatisfactory."
Landscaping costs
The reports said the costs of providing a taxi rank on the road outside the airport would be significant due to the amount of engineering work needed.
Work would include widening the road, introducing new traffic management and diverting public utilities.
It warned the Labour-controlled council that the cost of a 22-space rank would be at least £515,000 and could rise by a further £325,000.
There could also be additional optional costs of £65,000 for landscaping and customer waiting facilities.
The report suggested the council works with the airport on a forecourt management plan, saying this could address the traffic impact of the drop-off charge.
Councillors will consider the report on 12 October.
The airport declined to comment.