Leeds scientists uncovers new genetic skin cancer link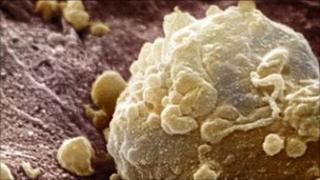 Scientists in Leeds have discovered new genetic faults that increase the risk of people developing melanoma, the deadliest skin cancer.
The faults are not related to hair, skin or eye colour which usually mean an increased risk of cancer.
Research has already shown a link between melanoma and pigmentation and moles.
The Cancer Research UK centre in Leeds said the findings cast more light on why sufferers develop melanoma.
The first DNA fault has been found in the region of a gene linked to narcolepsy, the condition in which people fall asleep spontaneously.
The second was discovered in a gene involved in DNA repair and the third found in the CASP8 gene which plays a role in controlling cell growth.
Increased risk
Professor Tim Bishop, based in the Cancer Research UK centre at the University of Leeds, said: "We know that over-exposure to UV increases the risk of developing melanoma but this evidence shows that there are new additional genetic faults which can push up the risk further."
There are about 11,770 new cases of malignant melanoma diagnosed each year in the UK and these are mainly caused by over-exposure to UV light.
Almost one third of all cases occur in people under 55.
About 2.3 million people will carry two copies of the three new gene faults, 4% of the UK population.
The average risk of developing melanoma is about one in 60 but this increases to one in 46 if a person has both copies of all three gene faults.