Councils call for children's surgery centre to stay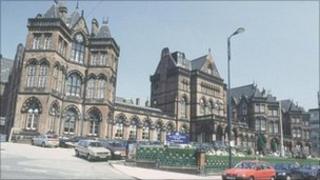 A health watchdog representing 15 councils across the Yorkshire and Humber region has called for the children's heart surgery unit in Leeds to remain open.
The NHS is proposing changes to children's cardiac surgery services, which could see the ending of operations at the Leeds unit.
The councillors' committee said the closure would have a detrimental impact on ill children.
The NHS said change was "long overdue."
The NHS review looked at all 11 children's heart surgery units in England, amid concern expertise was being spread too thinly.
Retaining the unit at the Leeds Children's Hospital is included in only one of the four options currently being considered in the review.
Leeds City councillor Lisa Mulherin, chairman of the Joint Health Overview and Scrutiny Committee, said: "After nearly seven months' analysis and examination of the proposals, our cross-party and cross-regional committee has united around the need to retain this much needed and highly valued facility at the heart of Yorkshire and the Humber.
"Losing this facility in Leeds would have a serious and detrimental impact on ill and vulnerable children and their families right across the region."
A public petition against the closure has collected more than 500,000 signatures.
A statement from NHS Specialised Services said: "This review isn't about closing centres; it's about developing networks of hospitals working together to deliver services closer to home, expert care in the event of an emergency and better planning to ensure mothers give birth at a specialist surgical centre if the baby needs surgery.
"All evidence and responses to consultation will be considered carefully by the Joint Committee of Primary Care Trusts before any decisions are made later this year."