Todmorden war memorial: Project to replace statues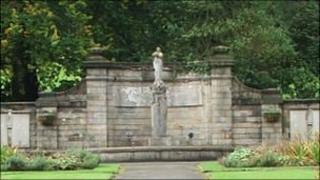 A former soldier has embarked on a project to raise funds to repair a vandalised West Yorkshire war memorial.
Paul Clarke, chairman of Todmorden Civic Society and a former member of the Royal Artillery, said he hoped the society would raise £15,000.
The money will replace two stone statues stolen from the town's garden of remembrance about 20 years ago.
The statues were erected in 1921 to honour the fallen Todmorden soldiers of World War I.
The memorial originally included three statues but only one, of St George standing on a globe, remains.
The stolen statues - The Lamp of Memory and The Shield of Honour - were by noted sculptor Gilbert Bayes who designed a number of war memorials in the UK and abroad.
So far £3,000 has been pledged to the civic society campaign for exact copies of the original statues based on old black and white photographs.
An application to the War Memorials Trust for a further £6,000 has been submitted and the outcome will be known in November.
Mr Clarke said: "It is about time we made this repair and it's a good project.
"It's just a start, we need to make repairs to the wall and tablets of the memorial, but the statues are a focal point."
The garden of remembrance in Centre Vale Park was originally paid for by public subscription and contributions from local employers.
The project aims to restore the memorial by 2014, the 100th anniversary of the start of WWI.
The work will be carried out by stone carver Nick Roberson.