Learning disabled actors to star in TV's Shameless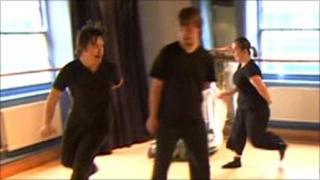 Six West Yorkshire actors with learning disabilities are to appear in hit TV comedy Shameless.
The actors were invited to take part by series producer Lawrence Till after he saw their work for Huddersfield theatre company Full Body and the Voice.
Mr Till said he was impressed by the "completely fantastic" work done by the company at the Lawrence Batley Theatre.
The six actors will appear in an episode of the show to be broadcast later in October.
'Straightforward task'
Mr Till said it was still "quite unusual" to see a larger group of people with learning disabilities represented on TV.
"If producers were given the opportunity and had the time to spend with actors with learning disabilities and understood their wants and needs then it's a simple, straightforward task," he said.
Actor Joe Sproulle, 24, who has Down's syndrome, said his role in Shameless had inspired him to do "even more" work on TV and in the theatre.
Mr Sproulle said working on the Channel 4 comedy, which is based on a fictional Manchester council estate, was "great".
Vanessa Brooks, artistic director of Full Body and the Voice, said Shameless was "many steps ahead" of other TV programmes in its representation of people with disabilities.