Mirfield stolen memorial plaques: Walk raises funds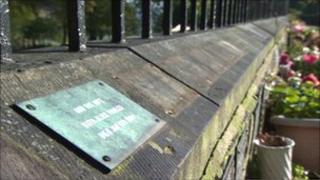 An old tradition has been revived in a West Yorkshire town to raise money to replace 168 metal memorial plaques stolen from a church yard in September.
The plaques have been recovered, but St Mary's Church, Mirfield, faces a bill of £20,000 to repair and replace them.
Fundraisers revived the tradition of walking around Mirfield's old town council boundaries to raise the cash.
A 17-year-old youth and a 26-year-old man, both from Birstall, have been charged in connection with the theft.
Councillor Martyn Bolt, who organised the walk, said the theft had caused "heartache" to the families of those whose lives the plaques remembered.
"This is a crime with victims and people have been expressing their disgust at this," he said.
"We're now seeing the community come forward to support us in trying to remedy it."