Leeds chosen as Russian Olympic diving team base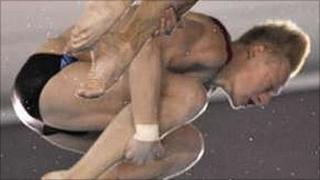 Leeds has been chosen as the official training base for Russia's diving team for the London 2012 Olympics.
The divers will be based at the Aquatics Centre at the John Charles Centre for Sport in the run-up to the games, which start in July 2012.
The Russian Diving Federation said facilities in the city were "ideal".
As well as Russia's divers, Leeds will also host China's full Olympic squad, Dutch swimmers and athletes from the USA, Serbia and Canada.
'Wonderful opportunity'
Anatoly Teplyakov, secretary general of the Russian Diving Federation, said the divers were "very pleased" to have signed the agreement to come to Leeds.
"We have been given a very warm welcome on our previous visits and we are very grateful to the people of Leeds for offering us this wonderful opportunity," he said.
Russia's divers finished second behind China in the World Aquatics Championships in July.
As part of the agreement signed between the Russian Diving Federation and Leeds City Council, the Russian diving squad will return to the city in February before the London 2012 diving test event.
The Russian squad will then hold a final pre-Olympics training camp in Leeds in July.
Adam Ogilvie, Leeds City Council's executive member for leisure, said it was "fantastic news" that Russia's Olympic divers would be based in Leeds.
"It says great things about the reputation Leeds has, not only as a city but also for the quality of its facilities, that these major nations are choosing to base themselves here," he said.