Overnight closure of A&E in Pontefract to go ahead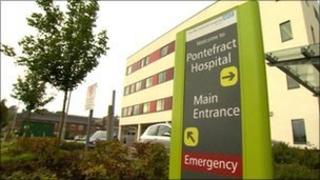 The partial closure of a West Yorkshire hospital's A&E department will go ahead from the start of November, the hospital's board has confirmed.
The Mid Yorkshire Hospitals NHS Trust board voted to close Pontefract Hospital's A&E from 22:00 to 08:00 from 1 November due to a shortage of staff.
It said the decision had been made "purely on patient safety grounds".
Yvette Cooper, MP for Pontefract and Castleford, said the decision was "deeply unfair" to local residents.
The proposal to partially close the hospital's A&E department, which was only opened in February, was announced last week, subject to ratification.
The trust said it had voted to reduce opening hours because attempts to recruit nine doctors had so far failed, and temporary staff were due to leave in 10 days time.
It said an overnight closure at Pontefract's A&E would affect fewer patients than it would at the nearby Pinderfields and Dewsbury hospitals.
'Deeply unfair'
Trust chief executive, Julia Squire, said the decision had only been taken "reluctantly".
Ms Squire said the trust would continue its recruitment efforts.
Yvette Cooper MP said she was "shocked" by the outcome of the trust's vote, and believed it had broken its promises.
"Nine months ago they promised us a 24-hour A&E in a new hospital with new facilities which are now going to be empty overnight," she said.
"It's not providing the care that people need. It is deeply unfair."
Adrian O'Malley, branch secretary of Unison's mid-Yorkshire health branch, said the board's decision was "scandalous".
"We want them to pull out all the stops to get those doctors because we fear it will never open again," he said.