Woman's Bradford Royal Infirmary treatment 'appalling'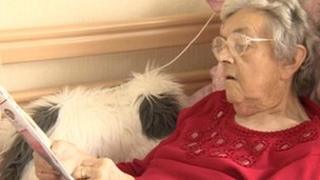 A Bradford woman who spent £1,000 to hire private carers to look after her elderly mother in an NHS hospital says her treatment was "appalling".
Annette Townend said she hired carers to feed her mother and give her water because she did not get the attention she needed at Bradford Royal Infirmary.
Mrs Townend also said some members of the hospital staff were "hostile".
Bradford Hospitals Trust said it was investigating the complaint and had an "excellent" record caring for patients.
Mrs Townend's mother, Sheila Smith, 82, was being treated at Bradford Royal Infirmary for a suspected heart condition in August.
'High standards'
Mrs Townend hired three carers to visit Mrs Smith for a total of six hours a day because she was becoming weak and it was "obvious" that she needed food and water.
She said the Bradford Royal Infirmary ward was "very understaffed".
Mrs Townend feared her mother would die as her liver and kidneys were failing because she had not been eating or drinking.
She said: "It's absolutely appalling. The question I would ask is what about the patients who haven't got close family or those without the means?"
Mrs Smith was later released from hospital and is now being cared for at a private nursing home.
A Trust spokesman said it was "sorry" to hear about Mrs Townend's concerns about her mother's care.
"Bradford Teaching Hospitals has an excellent record in patient safety and quality of care," he said.
"We have consistently been ranked as one of the safest hospitals in the country by the independent Dr Foster report and an unannounced inspection at the Foundation Trust earlier this year by the Care Quality Commission found us to be meeting the key requirements of elderly patients in hospital.
"We set high standards for ourselves and aim to get every patient's treatment and care right, and in most cases we do.
"We are committed to providing high quality health care for every patient."