State-run Leeds Prison to be paid on results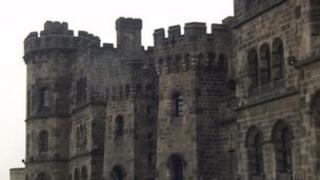 With its towering 19th Century battlements, HMP Leeds may not look like the prison of the future.
But the BBC has learned the jail, known as Armley Prison, will be the first ever publicly-run prison to be funded on the basis of its re-offending rates.
The controversial scheme has been launched in a couple of private prisons, including nearby Doncaster.
But the Leeds announcement is the beginning of a process that, by 2015, will have affected every state prison in the UK.
It comes as new Ministry of Justice figures show re-offending rates at the prison for those on short sentences dropped from 71.9% to 64% between 2007 and 2009.
At the moment details of exactly how the scheme will be run are vague, but there are certain things out in the open.
Crispin Blunt, the Minister for Prisons and Probation, said the jail would link up with an external organisation for the scheme in 2012.
'Proceeds of success'
In a speech to the Prison Governors' Association, he said: "By forming external arrangements with a partner, Leeds will be able to transfer the financial risk for the payment-by-results project out of the jail.
"Let me be crystal clear: if the prison and its partner reduce re-offending... the establishment will share in the proceeds of success."
A senior source inside the prison, however, was less optimistic.
He told the BBC the details were still to be finalised, but that the prison did face losing its budget if it failed to meet its targets, a prospect he said really "sharpens the mind".
Of the two payment-by-results schemes running in the private sector, the Leeds one appears to be closest to the Social Impact Bonds at Peterborough.
'Major concerns'
Payment by results has been controversial, with warnings of smaller charities being excluded, and so-called "cream skimming", where the easiest to reach get the most attention in a drive to meet targets.
The Howard League for Penal Reform also said it had "major concerns" over payment by results.
Sophie Willett, from the league, said: "There's no evidence to show that it does actually lower re-offending rates.
"Just because it's called payment by results doesn't necessarily mean that you'll get them."
Despite those concerns, the government has said that by 2015 all prisons will be run on the payment-by-results model.
The outcome of the pilot at HMP Leeds could well prove a blueprint for the future of the service.