Leeds City Varieties ceremony for wedding vow couple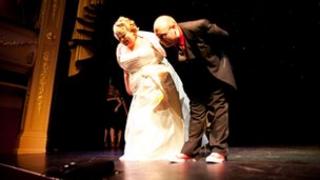 A West Yorkshire couple have become the first to exchange wedding vows at a famous Leeds theatrical landmark.
As part of the ceremony, Chloe Wilkinson, 23, and James King, 30, starred in a "mini theatre production" at the City Varieties theatre.
The bride and groom walked up the aisle and on to stage as family and friends watched from the stalls and boxes.
Ms Wilkinson said: "We're not traditional and both wanted something different."
"I can't think of anything better. This is just us," she added.
'So pretty'
While the couple were officially married at Leeds Town Hall on Thursday, they said they regarded their stage show at the City Varieties as their "proper" wedding.
Ms Wilkinson said: "We love this theatre and it is so pretty."
The ceremony was arranged by a Leeds-based company specialising in unusual weddings.
It finished with the wedding party taking a prolonged curtain call in front of a backdrop of stars.
The Grade II*-listed music hall recently reopened after a £9.9m refurbishment in the style of the late Victorian period.
For 30 years the theatre was the home of The Good Old Days, the BBC's long-running TV variety show.
After the ceremony, the wedding party headed for a fish and chip supper at a nearby restaurant.